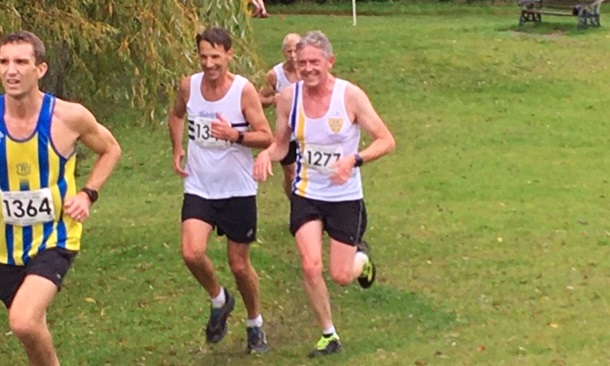 Sevenoaks AC fielded a full team of four runners in the men's race at the first match of the new Kent League cross-country season at New Barn Park, Swanley on 12th October. SAC's all-veteran team of Andrew Mead (134th in 40:07), Zachary Ramsden (145th in 40:39), Dan Witt (165th in 41:33) and Chris Desmond (213th in 43:33) finished 18th of 22 complete teams on the day. Andrew Mead was also 13th M50 and Chris Desmond 14th M55.
SAC also had a representative in the women's race with Suzy Claridge flying the flag in 50th place (12th W45 in 21:20).
Sevenoaks AC was also represented in four of the junior races, with full teams in both the U13 boys and girls events. The U13 boys team of Ryan Alford-Smith (34th in 11:27), Andrew Simmons (38th in 11:34), James Beecroft (41st in 11:39), Frederick Naughton (49th in 12:13), William Hurst (56th in 13:19) and Harry Mitchell (57th in 13:20) finished 8th team, while the girls team of Alexia Scotiniadis (43rd in 12:52), Lucy Edwards (46th in 13:00) and Heidi Wilding (61st in 15:20) were 9th. And in the U15 girls race, Rhianna Munn was 42nd in 18:22 and Tamzin Moore 48th in 18:42, with Thomas Mitchell 45th in 16:09 and Alex Holden 66th in 19:33 in the boys race.
The full results are here.
Match 2 in the series is at Somerhill School, Tonbridge on 26th October at 12:00. Contact This email address is being protected from spambots. You need JavaScript enabled to view it. for details.