Grace Manzotti took part in this 350 mile British Heart Foundation cycling event, more information about which can be found through this link. Her take on it is below.
Well I did it and finished but it was gruelling I think the most difficult challenge I have ever done, but I am pleased with myself as 70 people started and only 25 of us managed to complete it all on a bike.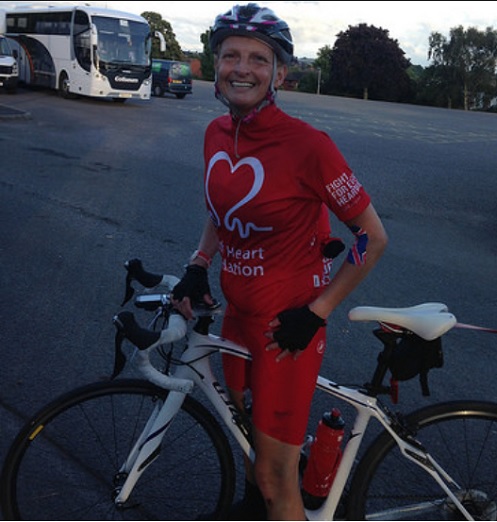 And only 5 women finished myself and 4 other women which funnily enough are all marathon runners. We thought that running did help us to keep going when we really wanted to stop, our minds kept us going when we didn't have anything left physically so we thought it is a bit like long distance running where you have to learn to keep going even when you haven't got anything left. So we all thought running got us through this and helped us. 
We rode 353 miles with over  20,000 feet elevation. The first day was fine,
it was sunny and it was flat London to Salisbury but the second and third day Salisbury to Exeter and Exeter to Truro were  just hills not a flat in sight. I so wanted to stop  but I kept  going. And the weather wasn't great a bit of rain and always head wind. 
On the 4th day we arrived in Land's end under lashing rain and strong winds not exactly what I had expected!  I was expecting blue skies but it was so dark that we almost couldn't see the sea!  I was cold and shivering. And on the day before that when I finished I was so tired I was almost hallucinating.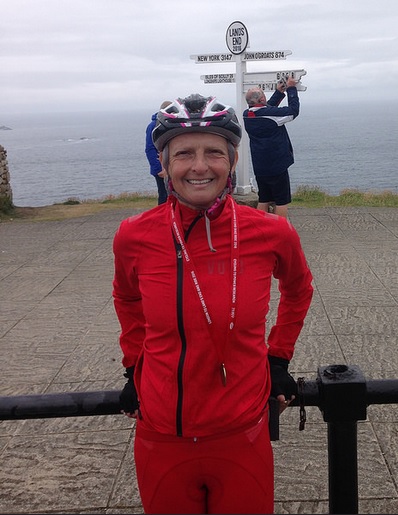 The views were amazing but we were too  tired to really appreciate them. The British Heart Foundation did this for the first time and they said we were their guinea pigs and they think  they will add a couple of days next year as they realised  that only 25 of us finished! 
I feel happy with myself but it will take me a bit to recover so not sure I am going to do well in the handicap race on Tuesday!!