On 23 May 2015 I took part in the Hardmoors 110 – a race which follows the entire length of the Cleveland Way in North Yorkshire, starting in Helmsley and finishing in Filey. I slightly underestimated the difficulty of this challenge. I'm not sure how - there are sufficient clues in the name "hard", "moors" and "110" miles! Another clue is the fact that completing this race earns 4 UTMB points.

The excuse that I'm sticking to is that I'd had a busy build-up to this event, which included the Thames Path 100 on the weekend of 2/3rd of May, followed by the Bewl Water Marathon on 9 May and the Orpington Marafun on 16 May. So I only really sat down and did my homework in the week leading up to the race. I decided not to think too much about what lay ahead, but rather concentrate on getting all my gear together.

I was entered as an unsupported runner, which for this race meant I had to be reasonably self-sufficient and had to carry a long list of mandatory kit at all times or risk time penalties or disqualification. Fortunately I was able to provide three drop bags packed with food and spare clothes which would be waiting for me at the 21, 43 and 90 mile checkpoints.
My friend Lloyd and I drove up on Friday and arrived at our hotel in Thirsk early evening. A few pints of lager and a fish and chips supper later, we called it a night at about 9pm. Race day - up at 5am and after breakfast we made our way to the race start in Helmsley. I had to collect my race number, but only after a thorough kit check to ensure all the mandatory items were being carried, and then hand in my drop bags. Following a race briefing by the race director Jon Steele,
90 other competitors and I set-off at 8am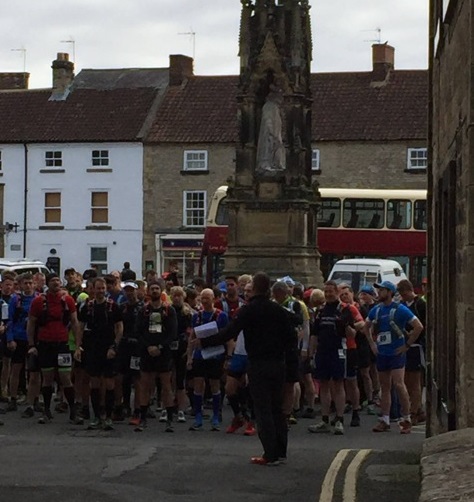 .
 
I set off at a comfortable pace and soon was passing through scenery which could have come straight out of a James Herriott story. I stopped and took a few photos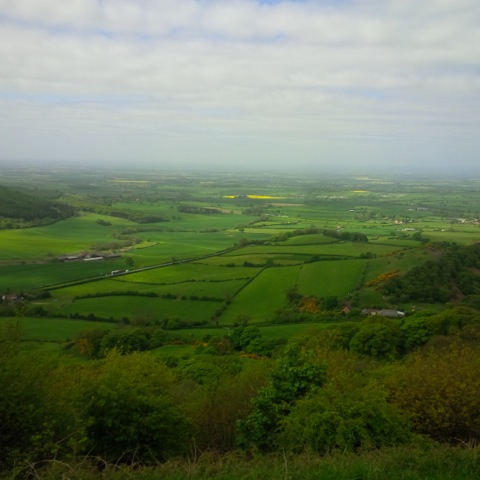 . The sun was out and with very little breeze, it was a glorious day. It was dry underfoot. Excellent conditions for running.
 
The first few miles involved quite a bit of uphill but posed no problem with fresh legs. The views were amazing from the top as we passed the Yorkshire Gliding Club.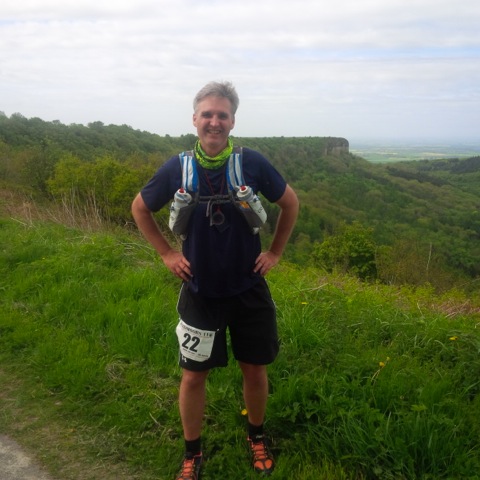 Then it was down a long set of steep and uneven steps to the first checkpoint at White Horse (9 miles).
 
I still felt good and all was going well, but in an attempt to avoid foot movement in my shoes I had tied my laces too tight, and after about 12 miles the roofs of my feet were sore, especially my right foot. We were now on the moors and I didn't want to stop, so decided it wasn't serious and that I could rectify it when I reached Osmotherley (21 miles).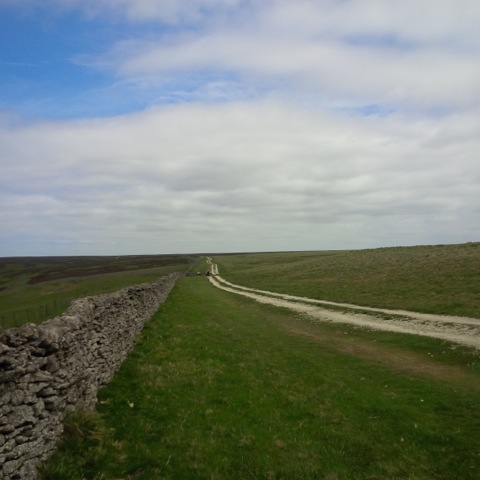 Eventually though, at about 19 miles I had to stop and loosen my laces. Unfortunately the damage had been done, so the pain didn't go away, but at least it wasn't getting worse. Besides it was nothing serious, more an aggravation than anything else.

So I carried on and at about midday I reached  Osmotherley and my drop bag. Quick stop. Changed to a thicker pair of socks, packed food from my drop bag into my back pack, topped up water bottles and off again. My task now was to reach Kildale  (43 miles) where my next drop bag was waiting.

In the lead up to Ostmotherley quite a number of runners had passed me, but unbeknown to me I had now leapfrogged them and in the miles that followed most of them overtook me again. The reason for this was the vast majority of the field were supported runners, meaning they had a crew which would meet them at various points along the route. So they were carrying less rations and kit than me, but were stopping more regularly and for longer than I was. This toing and froing, which was keeping my mind occupied, went on all day until the field spread out.

From here things got tougher as we headed along the northern escarpment of the North York Moors, passing various trig beacons including the highest point, Urra Moor. I'm not sure what was worse, the energy sapping uphill climbs or the leg breaking downhills. The path was an uneven series of steps and stone slabs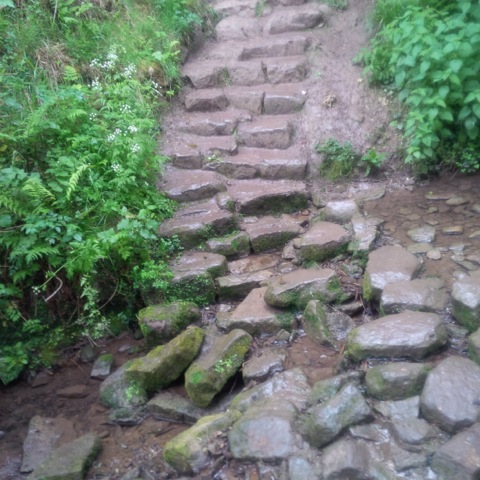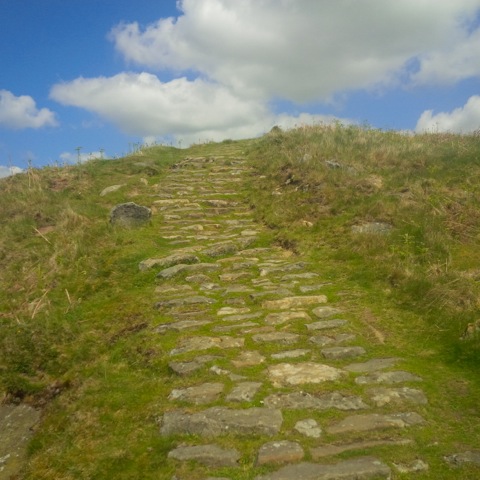 which made descending treacherous, so there was little reward for the hard work done reaching the tops. I was starting to have a sense of humour failure at this point. Thankfully after 3 big hills known to locals as "the three sisters" and a tough section on the open moorland to an unmanned self-clip checkpoint at Bloworth Crossing, I reached Kildale Village Hall, where I restocked my bag with food and water for the next stretch - a long one - 47 miles to my next drop bag. As an unsupported runner, food was available to me here, however nothing on offer really took my fancy, but I needed to eat something, so I grabbed a few slices of cold pizza and headed off. Stuffed with loads of new goodies, my bag was heavier than at any other stage, but I was still feeling good.
 
Five miles later I reached the summit of Roseberry Topping,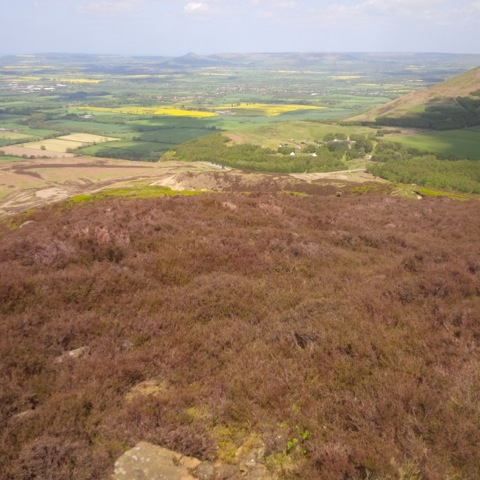 which gave me a bit of mental lift, knowing that after the descent, I was heading to the coast and in 10 miles would be at Saltburn on Sea (58 miles).

By now the field had spread out, and I barely saw another runner as I ran through the night, stopping only once at Runswick Bay (70 miles)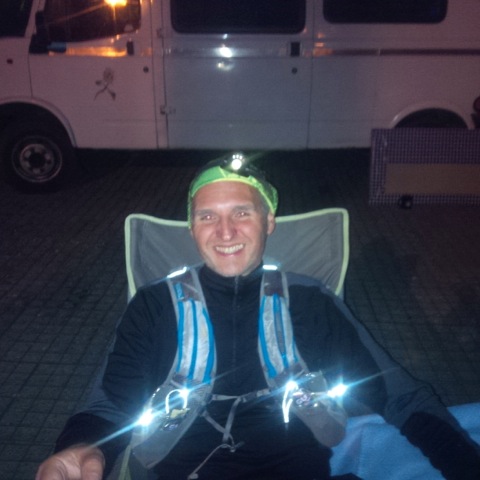 for a cup of tea. I was starting to feel slightly wobbly as I approached Runswick Bay, probably a combination of exhaustion and dehydration. Also the conditions underfoot in the hills had chewed up the soles of my feet, which I could feel were blistered.

The short stop and the tea helped and I was off again. I still wasn't feeling great but at least I was moving and every step was taking me closer to my drop bag at Ravenscar (90 miles). Then dawn broke and I enjoyed stunning views of the sea which gave me a little boost. I was glad to go through the stunning but tricky sections of Whitby and Robin Hoods Bay in day light.

The next 5 miles to Ravenscar included a lot of steps and finally a tough climb to the checkpoint. At the bottom of the climb up to Ravenscar was probably my lowest point in the race. I was running on empty and was fed up of hills. I'd been under the impression that the coastal section would be relatively flat. Wrong. Also it had started to rain, just a light drizzle though.

At Ravenscar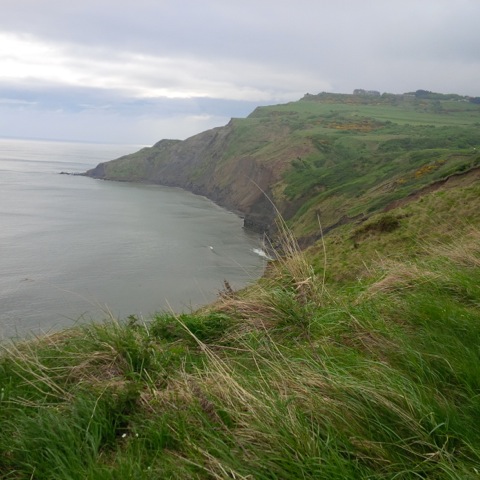 I found my drop bag and followed my usual routine, only this time I hung around a bit longer and had two cups of tea and some cheese and pickle sandwiches. Then off again with 13 miles to Scarborough and only 20 miles to the finish. It was raining harder now. Not good news for my blistered feet which were okay on the flats and up hills, but they didn't enjoy the descents. 
 
Reaching Scarborough around midday, the route left the clifftop path and for 3 miles went along the esplanade which was heaving with visitors, meaning I had to dodge people, dogs, prams etc. I can only imagine what they thought at the sight of me!
 
After leaving Scarborough, there was another tough climb back to the clifftop. Another low point!, actually I take back what I wrote earlier, this was my lowest point. There were only 7 ½ miles to go, but it may as well have been 75 the way I felt. Then to add insult to injury - during the race briefing the race director had made special mention about the many steps at Cayton Bay. I'd actually forgotten this until I reached them, but soon found out why they were worthy of special mention! I cursed as I climbed and descended step after step
.

With the steps behind me the, last 5 or so miles was along the clifftop. Conditions underfoot weren't great and I had slowed down to a shuffle so progress was slow and it felt never ending. Eventually I reached Filey Brigg, the small obelisk marking the end of the Cleveland Way and could see the finish area a few hundred yards ahead. I crossed the line in 32 hr 18min, the 36th of 61 finishers
.
 
The race was won by Ryan Barker in 21 hr 31 min, followed by Jonni Suckling (22 hr 06 min) and Neil Ridsdale (22 hr 38 min)   The ladies' race was won by Kim England in 25 hr 23 min, followed by Katie Boden (26 hr 33 min) and Heather Mochrie (27 hr 11 min).

There were 30 DNFs.

So I had finished another 110 miler relatively unscathed. My only real complaint being my blistered feet. 4 UTMB points earned.

I had enjoyed my visit to North Yorkshire. The scenery was stunning and the local people warm and friendly. I might just have to go back in 2016. They have a 160 mile race!