Reports
Man v Horse 2015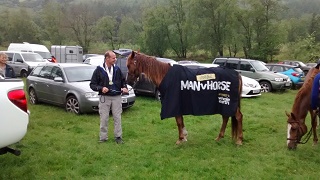 The Man v Horse race started in 1980 after several pints at the Neuadd Arms in Llanwrtyd Wells. The relative merits of men and horses running over mountainous ground was discussed and the result was this now annual event.
 
It was 25 years before Huw Lobb became the first man to triumph over the horse. He won in 2hrs 5mins, beating the fastest horse by 2 mins. This achievement was repeated 3 years by Florien Holtinger but the horse remains unbeaten since.

Sat 13th June just before 4am I loaded the family and dogs into the car for the journey to Wales. We arrived at 9am for registration after I insisted on stopping for a full English as part of my race nutrition strategy!
 
With 2hrs to kill we went to find the 55 horses that we would be competing against. They were in a different part of the town having their vet check before being classed as fit to race. There were some great looking animals with a range of fancy footwear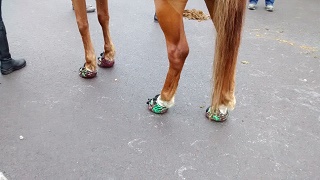 on show, the equine equivalent of Inov-8 you could say. Two horses caught my eye, one was young looking and to my eye perhaps in need of a full English himself, the other was a funny looking short thing, with a squashed in face and a wobbly bottom lip. My wife Maria and daughter Sophie who are both very horsey people were horrified at my disparaging remarks. The first, on closer inspection was seriously fit and the second was an Arab, reputably very good endurance horses, and apparently the prettiest there and has a resemblance to Maria's very own Arab. Oops!

The Mayor got the race underway for the runners at 11am after the briefing, which included advice such as yellow water buckets for horses, black buckets for runners! The horses would start 15 mins later to avoid any runner being stampled (Maria's own word for such events).

The course is 21 miles of very hilly, rocky, muddy, sometimes boggy, open moorland and forested land. Most of the route is across private land too. Considering I thought this was a 'fun' event with fancy dressed entrants it was tough. The start was up hill for a few miles which strung us out, into woodland and through the first of many rivers.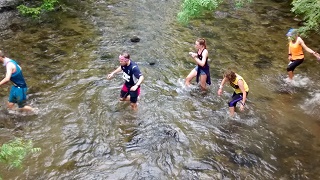 I was gutted when the first horse came by me at only 4.5 miles, and it was that scrawny thing I had spotted at the start! Without having any idea of the route it was difficult to know how hard to push and when to walk the hills. But of course it's the horses we were there to beat and apparently we are better descenders. Rubbish, I was comprehensively beaten on flat out, arms-windmilling downs, tricky, narrow, ankle-breaking downs and every other down in between.

 We do have one possible advantage though. The horses have to go through a mid-race vet check. Not only must they still be sound, but they cannot leave before their heart rate reaches 64 bpm. But nobody I spoke to was sure whether this time was subtracted at the end? I for one would have welcomed a nice rub down and a breather halfway round.
 
This stop meant the leading horses had to pass us all over again.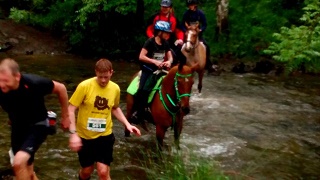 There is something very exciting about having horses chasing you down.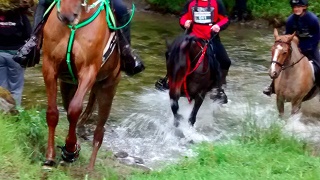 You know they are coming, you can practically feel them through the ground, the steady thrumping (my very own word for such occasions) getting closer and then the snorting, and they will not stop either. They also look imposing, all that's missing is for the rider to shout some kind of war cry and take my head off with a Morning Star.

As fantastic as the route is, I was happy when I could hear the tannoy at the finish in the valley below. All down hill now I thought, but no… one more thigh high river crossing and a gut turning climb up to the finish just to make you truly glad it's over.

Final tally was 51st place overall. Behind 10 relay teams and 15 horses. I managed a time of 03:03:23 at a pace of 9:11 m/miles. Leo the horse on the other hand managed 02:20:18. The leading man, Hugh Aggleton was 10 mins behind with 02:30:27.

This is a fantastic race, very well managed and marshalled. It's great fun with plenty of local support but attracting competitors from around the globe. Put it on your bucket list.

Andy