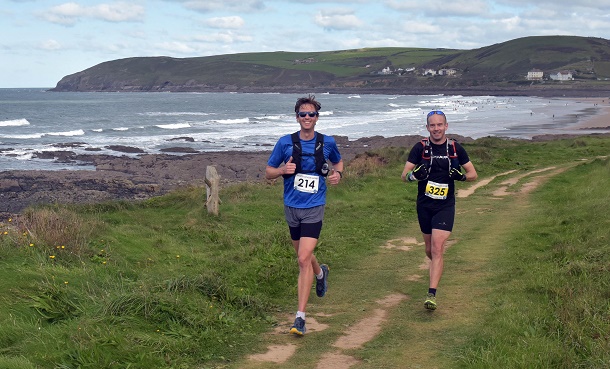 The North Devon AONB Half Marathon and Marathon took place on Sunday 27 September at sunny (but a bit breezy) Woolacombe, writes Ben Taylor.

With reduced entries and many runners deferring to next year there were less than half the number of starters compared with last year's event - 197 in the half marathon and 85 for the marathon.

The procedures to cope with covid-19 included a rolling start with runners assigned a time between 10am and 10:45, mask wearing up to the start line and immediately after gathering your breath after the finish, and using your own water cup/bottle at aid stations. In practice the low numbers meant that marshals were able to slot runners in whenever they were ready to go, and most people came self-sufficient with water and gels.

The run itself takes in plenty of the South West Coast Path, some tarmac roads and a few hills steep enough to turn your legs into jelly. After reaching the southern end of Woolacombe Beach the course ventures out and around Baggy Point, with views south to Bideford and Westward Ho! before descending to Croyde. It was while running along Croyde Beach that I saw the familiar SAC face of Graham Cook, out doing the full marathon.

After a quick chat we concluded that since I was only doing the half I should probably be going faster, so he sent me off ahead. With the pressure on me now, we headed towards the village of Saunton before taking a series of steep ups and downs back towards Woolacombe.

With my legs giving way I finally reached the turn off to finish the half marathon only to find Graham stalking along behind me, getting ready to do it all again on a 21k loop to the north of town. Clearly my half marathon pace had room for improvement.

Overall it was a well organised event in spectacular surroundings which lived up to the claim of being one of the UK's toughest races. The organisers had to overcome a lot of obstacles to get the race happening and showed that races could still be done well even in the current situation.


Ben was 31st in the half in 2:00:19 and Graham 49th in the marathon in 5:09:14. The full results are here.