Reports
Athens Marathon 2016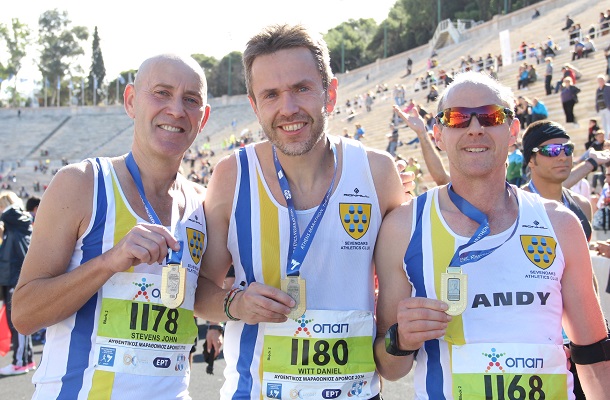 Three SAC members ventured out to Athens last weekend to compete in the Athens 'Authentic' Marathon, writes Dan Witt.

The race started in the small village of Marathon, some 26 miles to the north east of Athens. We were ferried out there on coaches from the city centre at 6am to be in place ready for the start at 9am, by which time the weather had already risen to a balmy 16 degrees or so. The course follows the original marathon accomplished by a news-bearing foot soldier from ancient Athens, who announced - with his last words - the victory of the Greeks against the Persians during the Marathon Battle in 490 BC. The Marathon Race follows this course and became one of the competitive events during the revival of the Olympic Games in 1896 and has been run annually for the last 34 years since 1972, including the Athens Olympics in 2004.



We all started from 'Block 2' which was the first 1000 runners after the elite and championship runners whom comprised the first 100. Andy made it clear from the off that he was in no mood to hang around although we did run the first mile or two together and he even managed to get a shot of me on the move!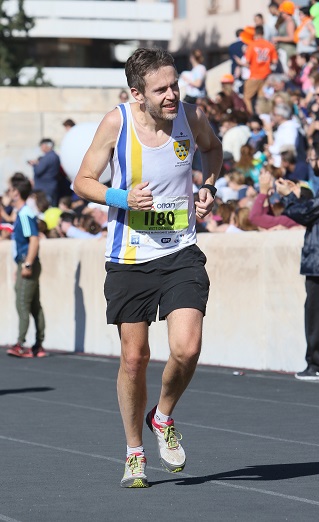 John made light work of his recent knee injury and by half way point, Andy was 2 minutes clear of John and me. At this point, with the temperature up to 20 degrees, the wind really picked up and the hills began to kick in; subsequently our pace was severely effected as a result, mine going from 7.15 minute miles to 8.30 minute miles towards the summit of the hill at 800 feet or 260 metres, climb from 12 to 20 miles. This was a gradual hill as the road from Marathon winds it's way through town after town on the way to Athens. We had all expected to be able to pick up the pace in the last 6 miles on the gradual decent to the finish but alas, dehydration and cramps began to set in and we all found it impossible to pick up the pace and we grateful of the numerous water stops, sponges, gels and isotonic drinks given out every 3km on the course and also to Andy for his salt tablets, without which we may all have struggled to finish at all!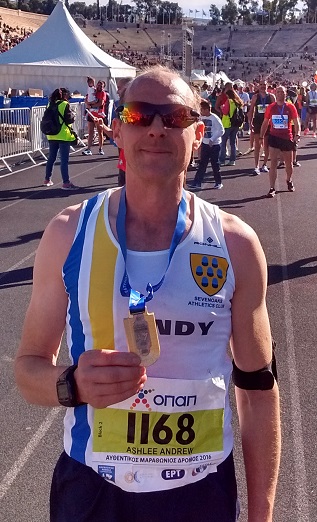 However the best was saved for last as the last couple of miles in the City Centre we rewarded with firstly the Greek parliament gardens and then the welcome view of the Panathenaic Stadium, the site of the ancient stadium and where the modern Olympic games began 120 years ago in the rebuilt horseshoe shaped stadium constructed of 'Pentelic' marble. We were all extremely relieved to finish as can be seen from the photos; Andy in 3.20, John was 3.22 and my time of 3.25. We were all around 15 minutes slower than our anticipated times, which illustrates the testing conditions on the day and difficulty of mastering the long climb and decent of the second half of the race.

John's statistics for the race were as follows:

13,781 runners and only 123 were sub 3hrs.

Andy 555th (73 in age)

John 628th (18 in age and 1st Brit in age!!!)


Dan 737th (140 in age)

We were all in the top 40 British runners; as shown in the results below (click CLOSE INFO (above right) to see all columns if reading this on the home page).

We all enjoyed several beers after the race and soaked up some sun in a café in front of the Acropolis. All in all, a great challenge, well organised race that one day I hope to be able to return to and master once my marathon running ability allows!
A/A

Rank

BIB

5Km

10Km

15Km

21.1Km

25km

30Km

35Km

40Km

Finish

31
558
73
531
1168

00:22:35

00:22:16

00:43:47

00:43:28

01:05:50

01:05:31

01:33:54

01:33:35

01:53:47

01:53:28

02:19:39

02:19:21

02:45:06

02:44:47

03:10:11

03:09:52

03:20:48

03:20:29

36
629
18
600
1178

00:22:46

00:22:28

00:44:48

00:44:30

01:07:30

01:07:11

01:36:02

01:35:44

01:55:41

01:55:22

02:21:22

02:21:03

02:46:57

02:46:39

03:11:49

03:11:30

03:22:47

03:22:28

39
740
140
707
1180

00:22:47

00:22:28

00:44:51

00:44:32

01:07:44

01:07:26

01:36:24

01:36:05

01:56:20

01:56:02

02:22:21

02:22:03

02:48:26

02:48:07

03:14:19

03:14:00

03:25:44

03:25:26
The full results are here.