Sevenoaks AC Presentation to Dame Kelly Holmes 2018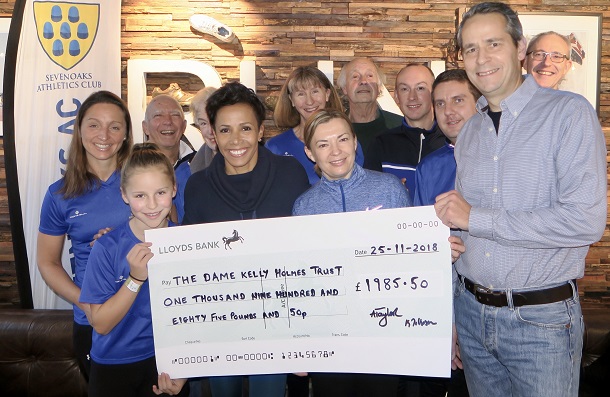 On Sunday, November 25th, Anna Humphrey-Taylor, SAC treasurer, and Erik Folkesson, SAC secretary, (pictured above with Dame Kelly and SAC members) presented Dame Kelly with a cheque for £1985.50 payable to The Dame Kelly Holmes Trust, writes Jim Knight.

The money from Sevenoaks AC will be used to support the Trust's "Get on Track" programme. This programme helps elite athletes use their world class experience to engage, enable and empower disadvantaged young people to lead more positive lives. With the retired athletes' mentoring and support, the young people gain opportunities to volunteer, access employment or training, and participate in sport and healthy lifestyles. Through this, they increase the chance of getting their lives on track.

The money was raised by Sevenoaks AC from recent Sevenoaks 7 races.

The Sevenoaks 7 is an annual 7-mile cross-country race held in Knole Park. Since 1993, nearly 8000 finishers have successfully completed the challenging route through one of the County's most beautiful deer parks. The next race, the 26th, is being planned for Sunday, July 14th 2019.