SCVAC T&F 2018 - Gillingham Monday 16th July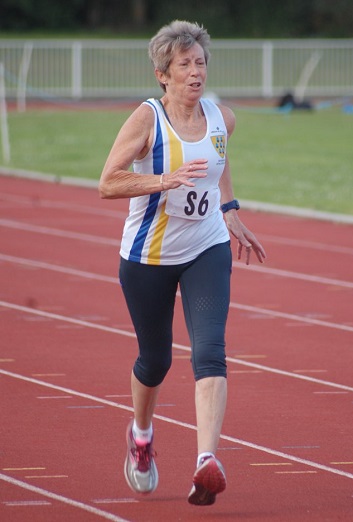 The final meeting in the SCVAC over-35s athletics league 2018 series took place at Gillingham on 16 July.  Results can be found here.
 
Grazia Manzotti reports on the ladies team:
 
Sylvia Lewis and Alzbeta Benn were the two ladies representatives at this match. They had both a very busy evening competing in the 100m, 800m and they both had a go, as first-timers, at the discus throw. Between them, they collected 40 points to put SAC in fourth place among the other ladies teams and in a similar position for the overall series. We do not seem to have had any W35 or W65 discus competitors for the club before, so Bet's throw of 9.88m and Sylvia's of 8.29m accordingly both rank as club best performances. Sylvia's 800m time of 4 minutes 17.1 seconds eclipses her previous best time earlier this season, another club best performance, still 15th in the W65 rankings.
 
It is the first time that SAC had a ladies team in this league and I can say it has been a success. In the overall series we had Sylvia Lewis, Alzbeta Benn, Pauline Dalton, Jenny Austin, Nicki Thomson, and Grazia Manzotti who was also the ladies team manager. Special mention should go to Sylvia who competed in all the matches in which we put forward a ladies team and broke tons of clubs records and won quite a few times; and to Bet who joined for the last two meetings and did very well in such short and fast distances even though she is an ultra runner! It was unfortunate that I was able to compete in just the first match and not afterwards, as I then had an accident at work which stopped me running for a while. I did attend all the meetings as the ladies team manager and thoroughly enjoyed it. I really hope the ladies team can build from this year on. In the only match where we had a full team, at Tonbridge, the SAC team came second! So I am sure that next year with a few more ladies and a bit more specific training we might be able to do great things.
 
And Geoffrey Kitchener reports on the mens team:
 
For the final meeting in the series, on 16 July at Gillingham, we filled all the event slots for the mens team.  Normally this is an effective strategy to maximise our score, but on this occasion all our opponents turned out in force as well, so that every point counted and we just scraped equal fifth place for the meeting and fifth place for the overall series.
 
Our star performance was a first position in the M60 800m by Duncan Cochrane. This was a surprise to him, not just because it was his first-time achievement, but also because the race was run with both divisions together, so that, although Duncan was well up in the field he was unable to see that all the runners in front were from division 1. He is currently 44th in the M60 UK rankings over this distance, with a faster performance at the Tonbridge meeting.
 
The 800m races started the track programme, and our other representatives were Dan Witt and Graham Dwyer, fourth and third in the M35 A and B races with identical times, and Colin Tester, fourth in the M50 competition. Next on the track were the 100m races. Our fastest man on the night was Andy Simpson, fifth placed M35A in 14.2 seconds, a fine result for a first-time sprinter without spikes. Colin and Geoffrey Kitchener took on the other 100m slots. We also had a potential reserve runner as, in the absence of a spare team place, Richard Pitcairn-Knowles ran as a non-scorer and, with 22.7 seconds, improved his standing at the top of the M85 UK rankings.
 
There were two field events. In the long jump, we were represented by Graham, Duncan and Geoffrey, our best position coming from Duncan with fourth in the M60 event. The discus throw was taken on by Duncan and Ron Denney. Only eight UK M80 athletes have this year thrown further than Ron's 12.39m.
 
The evening concluded with the 4 x 200m relay, undertaken by Colin, Duncan, Geoffrey and Graham. As our youngest runner was Graham (M45), our time of 2 minutes 9.8 seconds counts as a club best M45 performance for the event, taking six seconds off the previous best, which was an encouraging end to the series.
 
Looking back over the series, we have had 15 athletes competing for Sevenoaks AC mens team, several doing so for the first time, to good effect. Our representatives have been: Duncan Cochrane, Ron Denney, John Denyer, Chris Desmond, Keith Dowson, Graham Dwyer, Paul English, Neil Haggertay, Geoffrey Kitchener, Rob Peers, Andy Simpson, David Simpson, Darrell Smith, Colin Tester, and Dan Witt. As well as thanks to the competitors, credit is also due to Grazia Manzotti for helping out with the mens team manager role (as well as the ladies) when necessary.
 
While this is the end of the 2018 SCVAC league series for us, do bear in mind that there are the over-35s athletics county championships (men and women) on 16 September at Gillingham for high jump, pole vault, triple jump and long jump; and on 22 and 23 September at Erith for all other events. Closing date for entry is 30 August and you will find how to enter (postal or on-line) at the KCAA website. Entry is as individuals rather than as a team, and you need to apply direct. If you want to look at last year's results to see what the county competition is like (competitors are not numerous and sometimes no-one puts themselves forward to become county champion), then the details can be found here (for jumps); and here (for all other events).