British National Road Relay Medals for Sevenoaks AC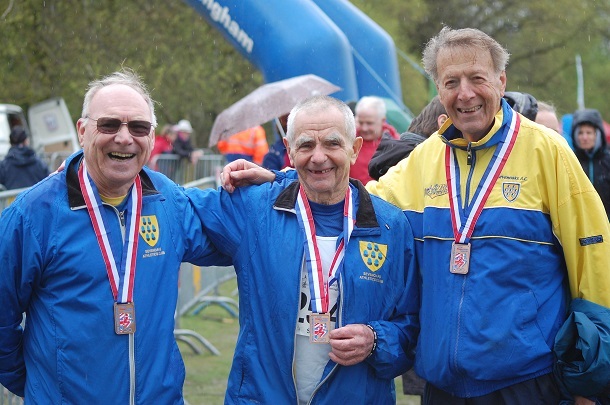 Above: British National Bronze Medalists, Ronald Denney, Jim Fitzmaurice and Richard Pitcairn-Knowles.
Last Saturday (28thApril) when Sevenoaks Athletic Club fielded a team of three with an average age of 81 they became British National Road Relay Bronze Medalists when they competed on a cold, wet morning in the Men's Over 75 age category, each completing a three mile lap of a hilly course in Sutton Park, near Birmingham. Competing teams came from the length and breadth of the country and the winners were Bingley Harriers followed by Exmouth Harriers, with the Sevenoaks team in third place in 1:36:05: Ron Denney (33:42), Richard Pitcairn-Knowles (34:32) and Jim Fitzmaurice (27:51).
The full results are here.