KFL Match 7 Blean Woods - 4th February 2018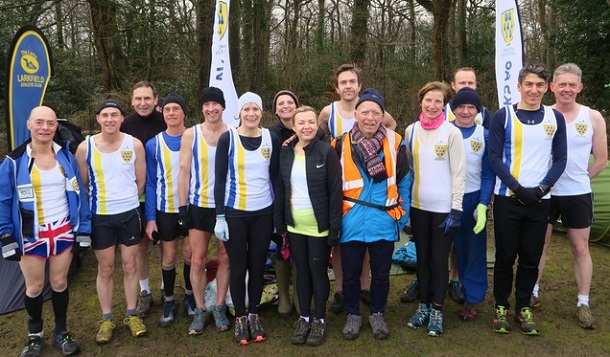 The final race of the 2017/18 Kent Fitness League took place on Sunday 4th February in cold, wet and muddy conditions with sleet and hail storms. Sevenoaks fielded a team of 18 runners, but crucially, only three of them were women. Heather Fitzmaurice added to a list of injuries already including previous scorers Jacqui O'Reilly, Pauline Dalton and Grace Manzotti and Vanessa Gilmartin was also unavailable. That left Ella Pyman to lead the women's team in 35th place with Sally Shewell and Anna Humphrey-Taylor also running well, but no fourth scorer.
Led by Andrew Milne in 19th, followed closely by Andy Ashlee and Lee Lintern and some excellent packing just behind them, the men's team were an excellent third on the day, so that even with the depleted women's team only 15th, the combined team were fifth. The result meant that SAC slipped one place back in the series with the combined team third, the women fourth and the men second - a brilliant effort in the circumstances.
Andrew Mead adds: "I had a quick look at the results and I think that the fact that we did not have a full women's team probably did not make much difference to the final standing. If the '4th woman' score was say 50 rather than 102, then we would have come fourth not fifth on the day but still not enough to stop Petts Wood taking 2nd overall for the season (they had all four women in the top 10, so their combined score was not beatable unless we could match that in the mens). So not such a disappointment as it seemed on the day and a great team achievement for the cross country season. Also doesn't Mr Simpson deserves a big thank you for his sterling efforts?" Quite right Andrew. On behalf of all the SAC KFL runners, thanks David for handling the admin and supporting the teams in all weathers.
In the individual series positions, Heather was 5th woman and 1st W45, Vanessa 3rd W40 and Sally 3rd W55, while Andrew Milne was our first man in 16th, Andy Ashlee 2nd M45, Keith Dowson 3rd M50, Dan Witt 3rd M40, James Graham 2nd M60 and Jim Fitzmaurice 2nd M70 (1st M75). Heather is confirmed as W45 champion on the list of champions here. The SAC results at Blean Woods were as follows:
The full results are here.
Although that's it for the Fitness League until late October, there is still one Kent League cross-country fixture remaining which is on Saturday (10th Feb) at Sparrows Den, West Wickham (no junior races). As usual the contact for that is This email address is being protected from spambots. You need JavaScript enabled to view it..