Reigate Priory Holly Runs 2017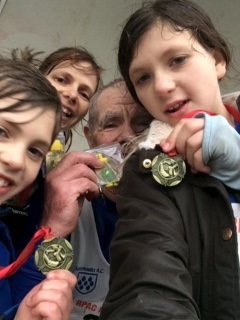 Jim, Heather, Maddy and Teddy Fitzmaurice all ran in the Reigate Priory Holly Cross Country runs on 17 December, with Jim and Heather taking age-group golds in the Southern Counties Vets championships incorporated in the senior races.

Maddy competed in the U11 girls race over approximately one mile finishing in 9:48, followed by Teddy finishing in 8:48 in the U11 boys race over the same course.

Heather was sixth overall in the women's race over four miles, winning the SCVAC W45 title, while Jim had to battle in the six mile men's race for his SCVAC M75 win. The results are here.