Darent Valley 10k - 7 May 2017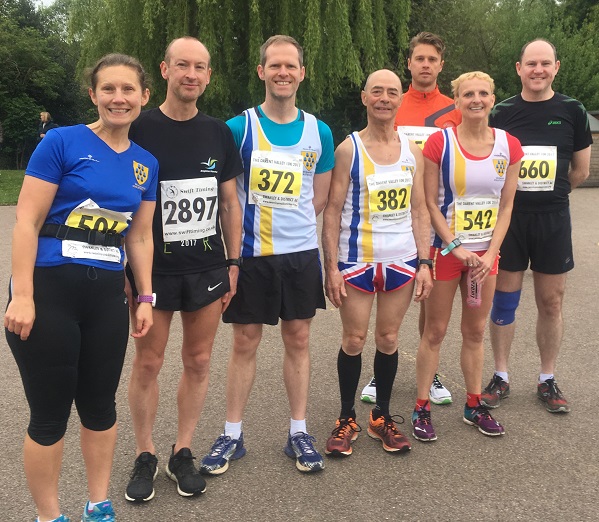 James Graham was first M60 as twelve Sevenoaks AC runners tackled the Darent Valley 10k, a Kent Grand Prix event, on 7th May 2017. Andrew Milne was the first home. The SAC results were as follows:
Pos-
ition
Bib-
No.
Finish
Time
Chip
Time
Name
Gen-
der
Cat-
egory
Club or Team
Rank
36
586
00:40:09
00:40:04
ANDREW MILNE
M
SM
Sevenoaks AC
1
40
372
00:40:20
00:40:15
ANDREW HUTCHINSON
M
SM
Sevenoaks AC
2
55
172
00:41:10
00:41:05
JAMES GRAHAM
M
M60
Sevenoaks AC
3
59
2897
00:41:16
00:41:11
NICK HUMPHREY-TAYLOR
M
M40
Sevenoaks AC
4
72
271
00:42:03
00:41:50
ANDY ASHLEE
M
M40
Sevenoaks AC
5
95
388
00:43:25
00:43:09
JOE PARSONS
M
SM
Sevenoaks AC
6
186
680
00:47:06
00:46:51
TONY HORLOCK
M
M50
Sevenoaks AC
7
301
542
00:51:42
00:51:26
GRAZIA MANZOTTI
F
W45
Sevenoaks AC
8
379
506
00:55:33
00:55:17
JENNY AUSTIN
F
W35
Sevenoaks AC
9
391
382
00:56:18
00:56:02
LIONEL STIELOW
M
M60
Sevenoaks AC
10
485
660
01:00:17
00:59:34
ADAM WESTBROOKE
M
M40
Sevenoaks AC
11
546
2839
01:03:47
01:02:54
SYLVIA LEWIS
F
W55
Sevenoaks AC
12
The full results are here.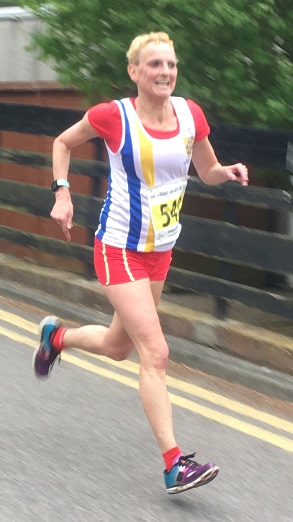 Grace Manzotti adds: "Having done the marathon at the beginning of April I was not going to race for a while, but everybody tempted me saying this race was fantastic with amazing views so I signed up. The race start time was 8.30 so when the alarm went off at 6.00 on Sunday I wasn't very impressed. I picked Lionel up at 7.00 and off we went. The race was really well organised and I like local races, it is always nice to see people we know from Sevenoaks and parkruns. 13 of us from Sevenoaks AC were there. It was rather cold, but a very good temperature for running. I did not know what to expect as I had never done this race before and people had told me it was tough, not a PB one, but a good one to do.

"The route goes through the beautiful villages of Farningham, Lullingstone and Eynsford. I had been warned about 2 hills, especially one at km 6, I was told to keep something in the tank for it as it was tough. But then some people had told me that at the end of the hill you turn left and then from  km 7 is all downhill from there. So first 5km all well, then the race goes off road on gravel for a bit using the same route as Lullingstone parkrun and then there was "the hill". It didn't look too bad from the bottom so I thought well go for it also thinking it would go downhill straight away. So I powered up through it, the end of it was steeper than it looked and my legs were not very happy, I found it hard to keep running but I kept thinking downhill soon! and….. No!! I turned  left and there was another hill on the road which went steady up for another km! People had been lying!! My legs were screaming by then, the downhill nowhere to be seen. And then at km 8 here it comes, my legs start to recover  and then I was flying downhill and it felt great. Before the finish there was  another flat bit and then the road went down again to the end!!! It was great to fly to the finish line! It was really good to see Anna and Nick cheering me on and it was lovely to get a warm cup of tea from Lionel. I think this is a lovely and well organised race with fantastic views so I definitely recommend it. I am happy about my finish time 51.26, I would like to do it again next year as I will know what to expect and can try to go a bit faster."