Veteran Athletics Friday 7 June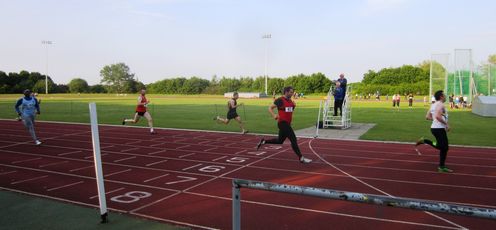 The third meeting in the Southern Counties Veterans AC (Kent) league series took place at Bromley on the evening of 7 June and for the second time running, we managed to fill every event spot in the Division 2 programme.
We had a highly successful set of sprints, with Paul English winning the M35 A stream 100m comfortably in 12.4 seconds, demolishing the club M40 best performance time which he held from last year and placing him in the first 15 of the UK rankings.

 

Martin White was second in the B stream with 13.8 seconds, over a second clear from the next runner; John Denyer helped out in the M50s; and Geoffrey Kitchener won the M60s in 14.3 seconds.
In the 800m races, our fastest runner was Chris Desmond, who dropped in to encourage the team and was then inveigled into joining us – he substituted for Rob Carr who, warding off leg injury, concentrated on discus instead.

 

Chris ran in 2 minutes 31.4 seconds which would have been enough to win the M50 event, but he joined stronger competition in the M35s.

 

Rob Peers achieved third place in the M35 B stream, despite having conducted a very strenuous club training session the night before; and a slightly faster time brought John Denyer fourth place in the M50s.
It is fair to say that none of our field event performances was spectacular, except for Paul English, whose first long jump attempt of 5.18m was an outright win in the M35s, a club M40 best performance by a long way and sufficient for twelfth place in the UK rankings. Unfortunately, he sustained a hamstring injury in this achievement - we wish him a speedy recovery.
Paul's injury meant that he was unable to participate in the 4 x 200m relay, so Chris Desmond kindly stepped in to join Martin White, Rob Peers and Geoffrey Kitchener.

 

Although we had a good race, there is no doubt that we missed Paul – just over a second at the finish covered second, third and fourth places, and we were just shaved into fourth.

 

That also was our position for the total points for the meeting and we retain a solid fourth place in the overall series.
Our next meeting will be in the evening of Friday 21 June at the Black Lion Leisure Centre at Gillingham – a relatively new track where we have not competed before.

 

Events include 200m, 1500m, high jump, shot put, javelin and 4 x 400m relay.

 

I shall be glad to hear from anyone who wishes to attend, whether as part of the team or a guest.
I attach the results and a picture (above) of the M35m 100m finish – Paul English easing off at the finish, a comfortable win.