Holiday Weekend Racing - May 3-6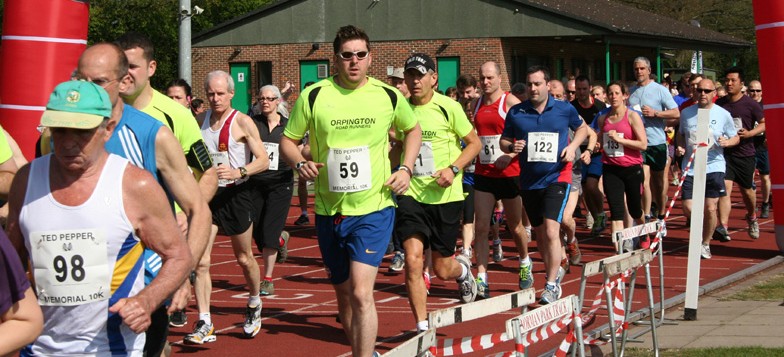 Jim Fitzmaurice was first M70 at the Ted Pepper 10k at Norman Park, Bromley on 6th May, which doubled as the SCVAC championships. Jim was 134th overall in 50:00. Full results here.
On the preceding Saturday, Uschi Field-Werners and Manu Field contested the trail Marathon and Half respectively at Bewl Water. Uschi was 102nd in 4:44 in the longer race, while Manu finished 29th in 1:43 in the 13.1. Full marathon result is here, and Half result here. Both runners times were PBs. "The course was very hard, mainly off road and the parts on the roads were very hilly" reported Dr F-W.
The majority of SAC's weekend racers descended on the Hildenborough 5 and 10 on 6th May, with the following results:
Hildenborough 10:
| | | | | | | |
| --- | --- | --- | --- | --- | --- | --- |
| Position | Number | Finish Time | Cat | Surname | Christian Name | Club |
| 3 | 436 | 1:03:44 | M40 | Brown | Keith | Sevenoaks AC |
| 11 | 440 | 1:13:05 | Msen | Parsons | Joe | Sevenoaks AC |
| 12 | 454 | 1:13:55 | Msen | Witt | Daniel | Sevenoaks AC |
| 21 | 467 | 1:21:53 | M40 | Peers | Robert | Sevenoaks AC |
| 29 | 482 | 1:27:02 | F45 | Fisher | Happy | Sevenoaks AC |
Hildenborough 5:
| | | | | | | |
| --- | --- | --- | --- | --- | --- | --- |
| Position | Number | Finish Time | Cat | Surname | Christ Name | Club |
| 11 | 158 | 0:34:00 | M40 | Thatcher | Mark | Sevenoaks AC |
| 21 | 184 | 0:36:44 | M60 | Colins | Lyndon | Unattached |
| 23 | 186 | 0:37:11 | M50 | Folkesson | Erik | Unattached |
| 25 | 182 | 0:39:16 | M60 | Marchant | Maurice | Unattached |