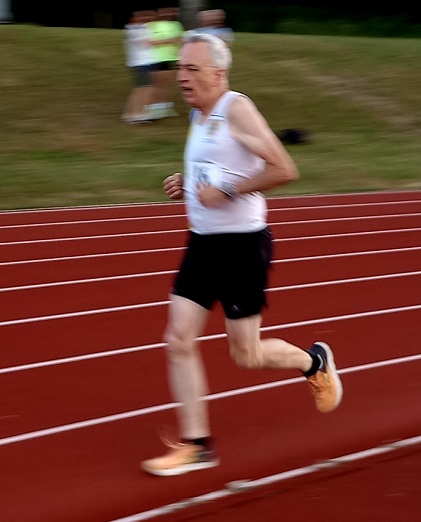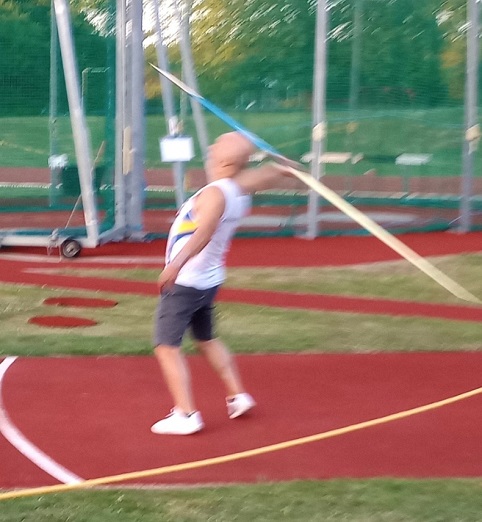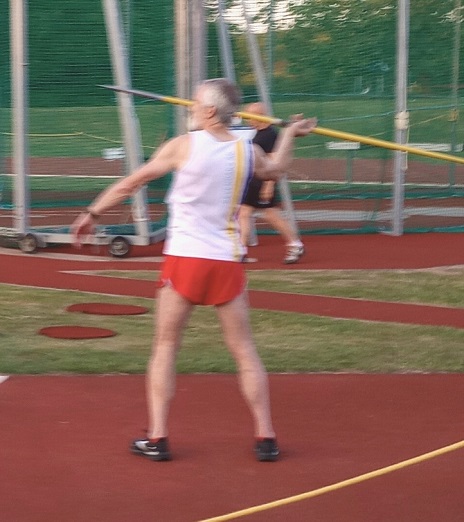 The warm, sunny evening of Friday 23 June made for a good outing for over-35 athletics at the Norman Park track, Bromley, writes Geoffrey Kitchener.  We had a team of five – David Simpson, Gary Walsh, Graham Dwyer, Rebecca Pickard and me – and held fifth positions on the day in Division 2, both men and women.  (Rebecca single-handedly held off the Swanley/Eynsford women's team to achieve this.)  Unusually, the meeting organisation was a bit patchy, with the starter not having brought along a pistol (so the track results will not go on the power of ten website, although John Denyer says that club bests can count), with equipment incompatibility preventing announcements, and there being fewer officials than expected.  As a result, I found myself volunteering to be lead official at the high jump, having never filled in a results sheet before (these are complicated, but competitors kindly helped me), and David stepped in to help raise the bar (little did he expect that this would go up to 2 metres, a challenge for all concerned!).
 

Track events began with 200m, Rebecca winning third place in the second fastest time achieved by an SAC W45 athlete.  In the men's 200m we were represented by Gary, Duncan and Graham, the latter taking third M50 place in a PB of 29.6 seconds.  At 1500m Rebecca, having already shattered the club best performance earlier this season, took over ten seconds more off, coming second in 5:26.7.  At present, this is likely to represent 17th or 18th place in the national rankings (although the absence of power of ten results will prevent it from figuring).  Graham at this distance again took third M50 place in a PB and Duncan was third in the M60s.  The last track event was the 2k walk, in which I was our only representative, coming second (to my surprise) in the M35 race, in a time undercutting the club's M70 best performance by 21 seconds.
 

The field events in which we entered were javelin, shot and high jump.  Rebecca improved her javelin PB for a third place; Gary also improved his PB; and David Simpson's fourth M60 place would rank in the top three nationally for M80s, but for his having to use the heavier M60 javelin.  Our only shot putter was Duncan and our only high jumper was Graham, who claimed second M50 place with 1.36m, a PB and club M50 best performance.
 

So, although we were few in numbers, it was a satisfying evening, with personal and club bests.  Our next outing will be at Tonbridge track, on Friday 7 July, when there will be 400m, 3000m, 4 x 400m relay, triple jump, hammer throw, high jump (women) and pole vault (men).  Offers to join in will be welcome.