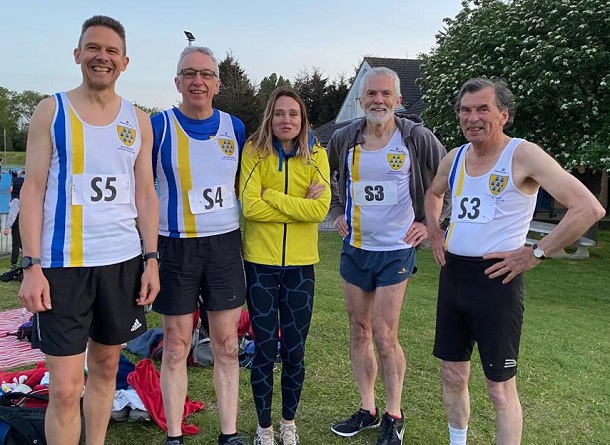 The results of our over-35s athletics meeting at Dartford on 26 May have just gone onto the power of 10 website, so I'm now reporting, writes Geoffrey Kitchener.  There were five of us there – Rebecca Pickard, Duncan Cochrane, Gary Walsh, Graham Dwyer and myself – all enjoying the fine conditions, albeit with a slightly gusting wind.

Rebecca was the women's team and so got the club onto the leaderboard, there having been no team at the previous meeting.  Her events were 200m and 1500m, the former completed in 32.5 seconds and the latter, for third place, in 5 minutes 37.4 seconds.  Her 1500m performance was our best of the evening: 19th in the UK W45 rankings and a club best, taking ten seconds off Suzy Claridge's record from last year (which itself took nearly 19 seconds off the previous best).

In the men's 200m, Gary achieved a PB, I was third in the M60s and Graham, returning to athletics after a gap from 2019, was the fastest, with 30.1 seconds in the M50 race.  Graham was also fastest of our team in the men's 1500m, additionally contested by Duncan and Gary, who both stepped down to the youngest age group, the latter acquiring another PB.

The field events included shot put, for which Duncan arrived just in time and was rewarded with a third placing; he also brought home a point for the hammer throw, finding that it was possible for a measurement to be given for landing on the concrete apron.  Graham and I added to the score via the long jump.

The meeting ended with the 4 x 100m relay, we had just enough men for this.  Although we finished fifth in 68.7 seconds, we had by far the oldest team and as none of us was under 50, this would appear to be an M50 club best performance (in the absence of any previous attempt on this).  Because of having a fuller men's team, we have now moved up to fifth place in division 2, overtaking Swanley/Eynsford.

Just a reminder, we are at Tonbridge on Friday 2 June for (6.45: ) 100m W, pole vault W, high jump M, javelin M.  (7.15: ) 100m M.  (7.45: ) 800m W.  (8.00: ) javelin W.  (8.15: ) 800m M.  (8.45: ) 4 x 100 relay W.  (8.55: ) 4 x 100m relay M.  Gary Walsh will be managing and so needs to know if you intend to compete.