Darrell Smith, Head Coach, reports: "Although the Track season is not over yet, it has clearly been a challenging season. After losing the Sennocke Centre we started meeting at Knole Paddock where we remained for the rest of the Summer before securing Sevenoaks Primary as our new indoor training location.
This Summer would have been our first season in Div. 1 of the Kent Young Athletes League, after promotion last Summer. But the league was cancelled for this year, so we will now have to wait until next Summer to attempt to stay in the top-flight.
The first competition of the Summer was a low-key match against Central Park Athletics Club at Dartford on the 16th August. With the help of parents, we were able to have a mini- match which was great fun and a welcome relief to actually have some competition. Although the performances could not be ratified as it was not an official competition the day did produce 9 Club records:
Erin Vallance 13.25 U15 100m
Emily Holden 21.15m Javelin and 7.79m Shot
James Beecroft U13 100m 11.5 and 24.53 200m
Holly Diprose U13 800m 2.40.57
Max Paulson U11 200m 36.28
U13G 3 x 800m relay 8.56.86
U13B 3 x 800m relay 8.27.02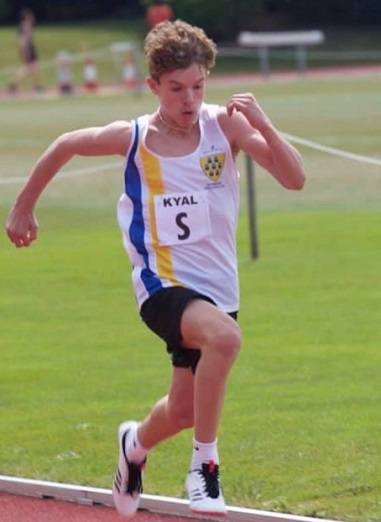 This was a great start to the 2020 season. A few weeks later (22nd Aug) at the first Blackheath Open SAC Sprinter U13 James Beecroft (pictured) blazed to a 11.91 clocking. A time that topped the U13 UK rankings by some margin and 18th on the All-Time list! At the same event Jess Lewis got her season underway with a 13.65 a Pb.
The weekend of the 13th and 14th September was a big weekend for our Juniors, competing at two different track meetings, as we endeavoured to compete in as much competition as possible before the end of the season. On Saturday, at the Dagenham Open, first up was James Beecroft in a head to head race against Dagenham athlete, Kyle Abdula. Ranked just behind James, the local boy was ahead of James at 40m, but James edged clear and came home in 11.86 to take the win. Next, Erin Vallance, who like James has been gaining the advice of Olympic Gold medallist Adam Gemili clocked a 13.35 to set a new Club record.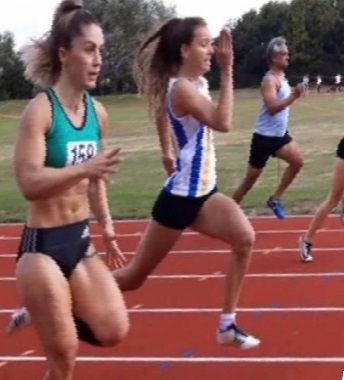 However, this only stood for an hour as over at Dartford, Jess Lewis (pictured) racing her 100m, came home in 13.31 to set a further Club record. Later James was in his blocks again for the 200m winning in a wind assisted 24.02. And again, across London Jess Lewis finished her day with another pb of 28.58 in the 200m. Lastly, Tia Rainey a first year U13 ran in the 800m running a pb of 3.08.
If Saturday was largely a day for our Sprinters, Sunday was the day for our middle-distance runners to show their abilities. The day started well with Isobel Morris U13 setting a Club 600m record running 1.55.1 beating the old record of 1.56.3. Next the 800m saw three of our U13 boys competing, as well as Indy Morris U15. In a fast race that combined U15/U13 Indy was first home for SAC in 3rd with a Pb of 2.28.52, next George Bishop 4th in a big pb of 2.30.55, then Aiden Moore 7th in 2.46.54 in his first race and Sebby Kent 8th in 2.57.64.
The final Girls event was the 1200m with two of our standout runners Ella Baker and Holly Diprose. After breaking the Club 800m record a few weeks ago Holly was trying this longer distance of 1200m for the first time. After 2 steady laps she unleashed an 80 sec last lap, going past lots of runners over the final lap to set a new Club record of 4.12.63 beating Ella's old mark from last year. Ella showed her strength and determination by still running 4.32.26 after competing in a Triathlon that morning! This strength and determination was to show a few weeks later with a new Club record over 1500m. Finally, the day was capped off by fine performances from Ryan Alford-Smith in the 1500m (5.29.04) and Indy Morris who leaped out to 4m 02cm in his first Long Jump competition. A great weekend's performance with 4 Club records and loads of Pbs.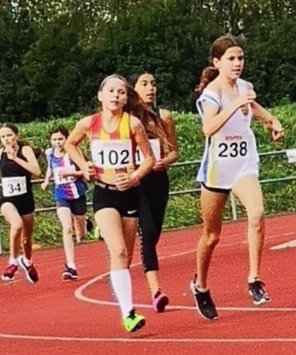 On Sept 3 two more Club records went at the Dagenham Open. In the 600m, Isobel Morris (pictured) improved her own 600m record by 4 secs for a time of 1.51.62 and Ella Baker broke the 16-year old Girls U13 1500m with a time of 5.28.26. Great runs from Ryan Alford-Smith 2.39.14 and Indy Morris 2.29.88 in the U13 and U15 800m respectively secured a successful day.
The season isn't over yet as there is a Blackheath Open on the 11th October and possibly more in October. Despite the challenges of lockdown the Juniors have continued to train and train hard. Coaches and helpers have been critical I want to thank the Coaches and the Parents who have been flexible and helpful. The results are because of this team effort."
The final two matches of the series were at Danson Park on 9th November and Footscray Meadows on 14th December and SAC's under-13 boys fielded full teams in both matches to finish the series in 6th place out of 13 teams. At Danson Park, the team was 10th on the day, while they improved to 7th at Footscray. Ryan Alford-Smith led the team home in 28th place at Danson, followed by James Beecroft 39th, Indigo Morris 40th, Andrew Simmons 44th, Harry Mitchell 49th and Toby Vagg 53rd. At Footscray, Milo Sistilha was 29th, with Ryan Alford-Smith 34th, Harry Mitchell 36th and Toby Vagg 47th.

The under-13 girls had been a runner down at Danson Park, although Ella Baker in 15th and Lucy Edwards in 39th ran well, but they fielded a full team at Footscray where they finished 7th. Alexia Scotiniadis was 20th, Ella Baker 22nd and Lucy Edwards 48th. Despite the no-score in the third match they still finished 9th in the series.

Sevenoaks AC's only other junior at Footscray was Thomas Mitchell who was 28th in the under-15 boys race, one place better than his 29th at Danson Park where Alex Holden also ran in the u15b race for 56th place.

This completed the club's best performance in the Kent League juniors for many years, thanks to the runners and their head coach Darrell Smith. All this season's Kent League results are here.