January saw the start of a whole series of Championship events in the UK cross country calendar, writes head coach Darrell Smith.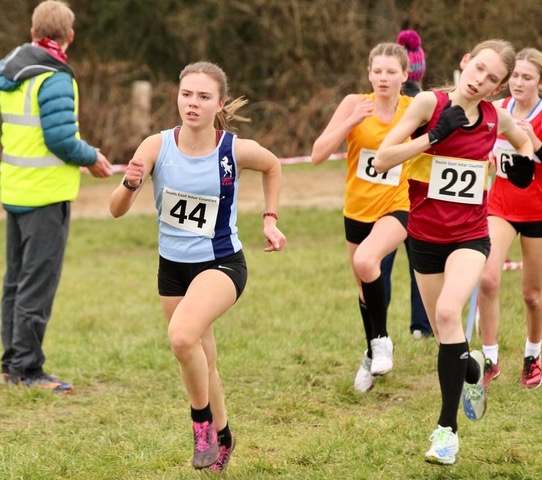 First, the Southern XC Champs held on 28th Jan at Beckenham Place Park. In the U15Bs, first home was Ryan Alford Smith in 114th. Next Andrew Simmons in 150th and then new addition to the Club, Luke Bridges in 154th. With just 2 of our medal winning U15Gs team from the Kent Champs we did not have a team, but Ella Baker was 37th and Amelie Jones 161st. In the U17W Eliza Nicholson was 4th, a precursor for what was to come later.
Then came the South East Schools XC on 4th Feb in Ardingly. Following her run in the Kent Schools where she placed 8th,Holly Diprose (pictured) had to go to the SE Schools at Ardingly and "get something" to defend her place in the Kent Team for the English Schools XC Champs on March 18th. Holly showed real grit to do just that placing 29th. She now joins Ella Baker (SAC) in the Kent Team for the biggest race of the year. Add to this Eliza's run at the London Schools we now have 3 competing at the English Schools.
The biggest Club race in England, the National XC Champs in Chester on Feb 25th saw 3 of our most committed runners make the trip. Eliza Nicholson's 8th place was the standout performance as she continues to improve. A 95th by Holly Diprose and 114th for Ella Baker (coming back from injury) were good runs at this level and good preparation for the last few races of the season. Ryan Alford-Smith ran a well-judged race placing 213th.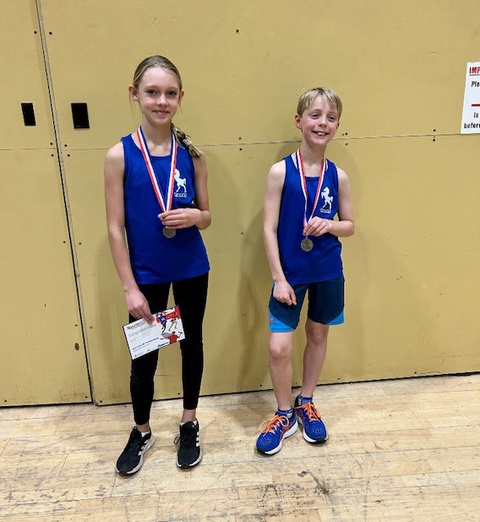 In the Regional U11 Sportshall Athletics on 26th Feb, Harper Williams and Nicholas Waldock represented Kent at the above event. Congrats to them on their first Kent vests.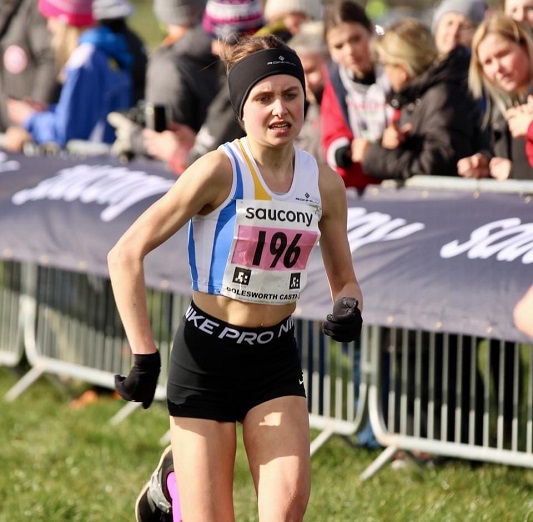 Our 3 top Female Juniors were performing again on March 11th at the UK inter-Counties in Loughborough. Ella Baker improved on her 114th at the National with a 69th in the UK Champs. She seems to be coming back after injury and Holly Diprose fought bravely to come in 198th. Both Girls compete for Kent next week and I believe both will finish on a high.
Finally, just when we thought Eliza Nicholson couldn't improve on her 8th place run at Nationals she did just that with a 6th place. This despite, by her own admission, having a pretty bad start. In the 50s after 200m she had moved up to 20th by halfway. Then seemed to go into another gear and was in 12th with a mile to go. Moving up to 6th up the final hill to the finish.