SAC at Sevenoaks 7 2019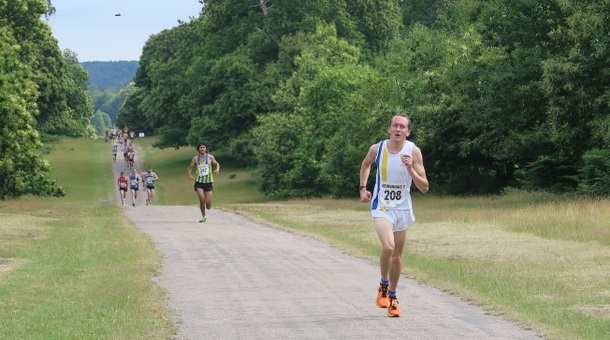 The 26th Sevenoaks 7 took place in Knole Park on Sunday July 14th, writes Jim Knight.

The early-morning rain cleared leaving conditions warm but overcast – good conditions for a tough 7-mile race.

380 runners from all around the Southern Counties lined up on the start line at 10.30 am.  There were strong teams from Tunbridge Wells Harriers, Orpington Road Runners, and Dulwich Runners but a reduced team from Sevenoaks AC, as 30 SAC club members were involved in the race organisation.

The runners started at the bottom of the Knole park, close to the Hole in the wall, and went steadily uphill past Knole House to the refreshment point on Chestnut walk before descending the Gallops and climbing back up to Chestnut Walk. At the end of the second loop, the runners turned left by Knole House for a fast downhill mile to the finish back at the bottom of the park.

It's a challenging course. A full 7 miles, and none of it flat.

The leaders set off fast, and soon a trio of Billy Hobbs of Tunbridge Wells Harriers, Chuck Edwards of Dulwich Runners AC and William Levett of Tunbridge Wells Harriers had opened up a 50-metre lead. But on the second lap, Sam Coombes of Dartford Harriers caught the trio and, along with Duncan Marsden of Tunbridge wells Harriers, the five fought for victory.

The eventual winner was Billy Hobbs of Tunbridge Wells Harriers in a very fast time of 38.14 (last year's winner took 41.44, although on a very hot day). Second was Chuck Edwards of Dulwich Runners in 38.56 and in third place was Sam Coombes of Dartford Harriers in 39.08.

In the Women's race, Cas Jackson of Dartford Harriers won in a fast time of 46.59, followed by Marta Miaskiewicz of Dulwich Runners in 47.47, and Nicola Evans of Tonbridge AC in 49.37.

Both the men's and women's team competitions were won by Dulwich Runners AC.

The Sevenoaks AC men's team ran well to come 5th, with James Mason in 8th position, Nick Humphrey-Taylor in 34th, Andrew Milne in 38th and Andrew Hutchinson in 39th.

Other notable SAC performances were Lionel Stielow (2nd M70), James Graham (3rd M60), and Sally Shewell (4th W55), Sylvia Lewis (2nd W65)

In the junior race, Sevenoaks AC athletes performed well, with Ryan Allard-Smith winning the boys race followed by Alex House in 2nd and Freddie Naughton in 3rd.

The girls race was won by Lexie Johnson, followed by Ella McIntyre in 2nd and Daisy Phillips in 3rd.

The winners of the veteran's classes were.
M40 – 49    William Levett – Tunbridge Wells Harriers
M50 – 59    Jim Ashworth Beaumont – Serpentine RC
M60 – 69    Stephen Smythe – Dulwich Runners
M70+        Tony Unseld – Orpington Road Runners

W35 – 44    Marta Miasiewicz – Dulwich Runners
W45 – 54    Yvette Dore – Dulwich Runners
W55 – 64    Rose Baker – Cambridge Harriers

This year, for the first time, the race welcomed a number of athletes from The Running Charity – a London-based charity that helps homeless youngsters build their self-confidence and self-esteem through running. Fifteen Running Charity members competed, with Alaiksa Hagose awarded the trophy for fastest male and Zamzam Farah the trophy for fastest female.

Race Director Richard Thomas said; "We had a very successful day with nearly 400 runners and lots of positive comments.  Congratulations to everyone who finished the tough course. This year, in addition to raising money for the Dame Kelly Holmes Trust, I'm delighted that we were able to support The Running Charity – another charity that helps disadvantaged youngsters to improve their lives through running. I should like to thank all the marshals and officials for their hard work, and our sponsor, Up & Running."
The Sevenoaks AC results were as follows: