KFL 2018/19 Match 5, Nurstead Court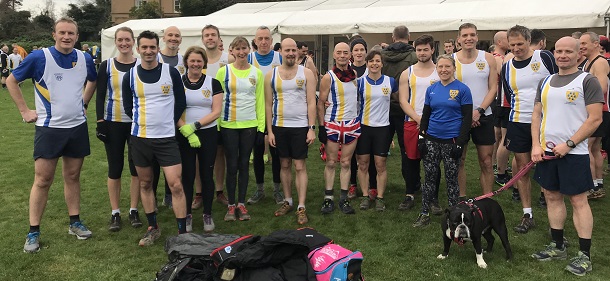 The fifth race in the Kent Fitness League Cross Country series took place in Meopham on Sunday January 6th, on a tough 5-mile course around the paddocks and woodlands of Nurstead Court, including several obstacles, writes Jim Knight.

Running conditions were good, except for the notorious water-splash, a 10-metre long pond that competitors had to negotiate twice on the two-lap course.

With some of our fastest runners busy elsewhere, Sevenoaks AC fielded a slightly weakened team of 33 athletes, but with a strong women's team.
 
In the women's race, Cath Linney was the fastest Sevenoaks runner in 11th position, closely followed by Vanessa Gilmartin (16th), Heather Fitzmaurice (17th) and Marion Van Lille (22nd). Notable in the age categories were Bridgit Weekes (2nd W60 on the day and in the series) and Pauline Dalton (3rd W50 on the day and 2nd in the series).

The Sevenoaks women were 2nd on the day and this brought the women's team up to 3rd in the series. Petts Wood Runners had a very strong women's team and retained the top position in the series.

The SAC men's team lacked our top M50s but Guillaume Nineven led the team home in a very impressive 10th position, followed by Andrew Milne (23rd), Andrew Hutchinson (26th), Russell Crane (30th) and Ed Saunders (33rd). Dan Witt was our first M40 in 45th, and the team's M50 scorers were Jim Harness (82nd), and James Wright (85th).

The men's team were 3rd on the day and move up to second in the series.

The combined team, lying in 2nd position after 4 races were again second on the day and retained their second place in the series. The club hopes to raise a strong team for the next race – the popular Minnis Bay race which takes place in Birchington next weekend (Sunday Jan 13th).
THe SAC results were:
The full results are here.

The Kent Fitness League is a series of cross-country races between the 18 registered Athletics Clubs in Kent. Any number of club members can compete, but 12 are needed to score in the team competition – 8 men (of whom two must be V50 and one V40) and 4 women (of whom one must be V45 and one V35).